Microalgae cultivation
For the cultivation process, it is essential to control the concentration of CO2 and O2 towards the most optimal values ​​possible. The closed systems, also called photobioreactors (PBR), operate in a more controlled environment. The combustion gas is mixed to the correct composition and delivered directly to the microalgae. The plant is a system made up of algae cultivation bags in a rack that ensures good agitation in the reactor. As a result, the algae double their weight in one day.
The three main fractions in the algal mass are oil, protein, and carbohydrates. Therefore, relevant alternatives for using the algal mass must be assessed based on market and profitability. The application areas are many: biofuels, health food, cosmetics, feed for the live feed, or supplements in fish and animal feed.
From CO2 to Omega-3
The content of "omega-3" in farmed salmon has been halved during the last ten years due to the lack of marine oils in fish feed. Access to fish oil, which previously made up 100% of the fish feed's oil feed, has become a scarce resource due to deep-sea fishing limitations.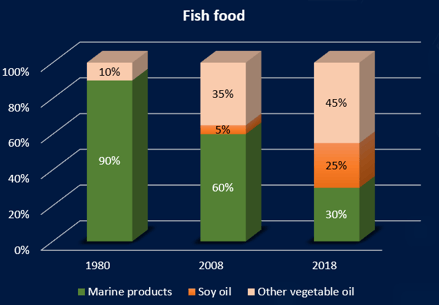 Today, much fish oil is replaced with land-based products such as Soya that do not contain marine fatty acids. As a result, only 30% of fish feed is produced from marine raw materials, reducing the healthy fatty acids (EPA, DHA) in farmed fish accordingly. This unfortunate development can be altered by adding marine raw materials from algae in the fish feed.

The unique characteristic of farmed salmon is that its nutrients and nutritional value are affected by the choice of feed ingredients. Therefore, contributions can be increased significantly by selecting feed ingredients containing high levels of these nutrients.

Using all CO2 from the energy plant and the return of O2 from the algae plant to the combustion process will create an environment for producing large quantities of algae, a natural first link in a marine food chain. In addition, it will provide the raw material for high-quality marine oils and feed.

There will be considerable growth in the demand for marine oils "omega-3" as raw material for fish feed in the years ahead. Microalgae has a wide range of applications; feed for fish, feed for animals, and pharmaceuticals, to mention some of them.
UN Sustainability goals
With this process, we will continue working towards a green shift, in line with the UN sustainability goals. We work towards Responsible consumption (12), Affordable and clean energy (7), Improve life below water (14), transition in Industry, innovation and infrastructure (9), create Decent work and economic growth (8), and a clear Climate action (13).