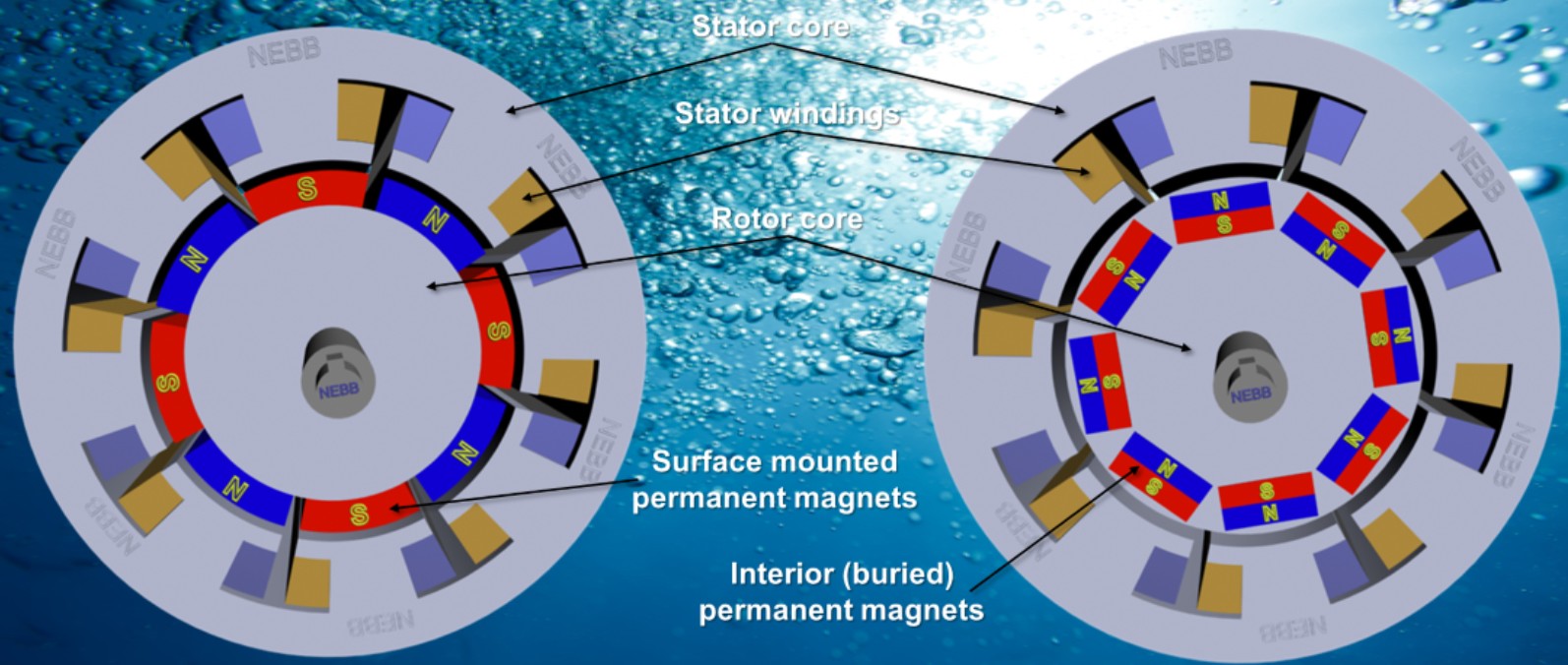 Nebb has developed subsea variable speed drives (VSD) for operation down to a depth of 3000 m. The VSD's will operate a variety of motor types. In order to give an overview of the possibilities, similarities and differences of the different types of motors, a whitepaper has been prepared.
Nebb offers subsea motors for our VSD drives, as well as a guidance of the customer in the choice of an optimal motor.
As a manufacturer of subsea VSD's, Nebb needs to have an in-depth knowledge of all relevant motor alternatives and their suitability in different conditions This is necessary for being able to supply the best solutions to our customers.
Subsea motors are based on standard electrical machines, which are "marinized". This means that the different structural components in the machine must be re-designed to fulfill the subsea conditions. The motor will normally be exposed to the sea water pressure, so the design must be pressure-tolerant. Sometimes the design needs to be adapted with a different cooling solution and the motor may have to be mechanically stabilized, to withstand shock/vibration requirements. Components might need to be replaced or modified with respect to quality, temperature, vibration tolerance and lifetime, but the basic electromechanical properties shall be compatible with the original motor type.
These are the challenges of the electrical motor technology which need overcoming, in order to achieve a successful implementation in the subsea environment. Therefore, the Nebb engineering team has created the Whitepaper - Electrical Motors for Subsea Variable Speed Drives Machinery.
The purpose of this document is to define the technology of the motors which is required by the working environment conditions:
High sea depth - 3000 m and deeper;
Extreme high pressure - 300 bar and more;
Extreme temperature variations - from -10°C up to 80°C, particularly during service and testing on deck;
Not easily accessible/difficult to access– deep water;
No air for ventilation system;
Totally sealed and enclosed structure;
Flammable and explosive environment during service and testing on deck.
For more information, please contact:
Per Morten Jørum on per.morten.jorum@nebb.com or
Dobri Cundev on dobri.cundev@nebb.com.
Subscribe to our newsletter and stay informed.
For a thorough understanding, download and read our 28-page whitepaper on motor selection.