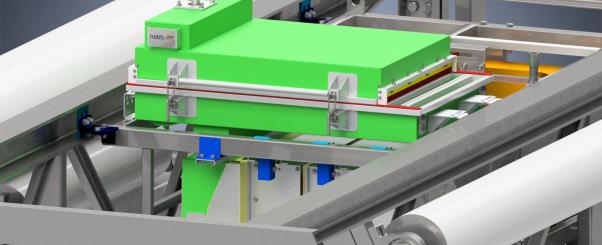 Having served the PMC market for decades, the two Norwegian companies gear up with the development of a new standard for the PMC industry.
After decades of competition, Nebb and Pro-Group have joined forces for the development of new technology creating a new era for the PMC Industry and the Paper Industry as a whole.
We have extended our experience, capacity and quality of services while working from our customers' perspective to find the best solutions.

The new technology in heat-setting machinery operates with all key manufacturing processes set to reach the ever-higher product quality standards.
Our product range:
New patented Steam Box – a revolution in heat-setting and fabric treatment.

Complete machine for finishing of felts and fabrics.

Auxiliary equipment like Edge Cutter, Permeability Gauge, braking systems etc.

Rebuilds of existing air boxes (gas/electric, electric/gas, oil and steam).

Energy recovery systems.

Diagnostic services and calibration of finishing machines.

All controlled by the leading PMC Control System for excellent performance and single-person operation.
All PMC products and solutions are available through Nebb Products.
For more information, please contact:
Per Morten Jørum on per.morten.jorum@nebb.com or
Per Erik Ottesen on per.erik.ottesen@nebb.com.
Subscribe to our newsletter and stay informed.